Library of Bell Recordings
by Dr John R Ketteringham MBE Lincoln, England
Carillons
The bells which can be heard are those of Bournville Schools
carillon having 48 bells and a bourdon pitch C

A carillon is a musical instrument composed of at least 23 carillon bells and may have as many as 77 bells arranged in chromatic sequence, so tuned as to produce concordant harmony when many bells are sounded together. The heaviest bell, which is called the Bourdon, can range from 300 pounds to over 20 tonnes in weight.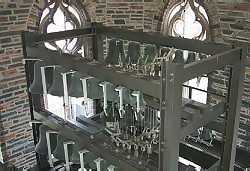 The carillon is played from a large keyboard containing both manual and pedal keys, similar in design to an organ but much larger. A carillon is very sensitive to the touch of the player, and has the largest dynamic range of any acoustical instrument. The keyboard is linked to the clapper of the bell by a manual transmission mechanism that allows the player great expressive range.
The world's greatest concentration of carillons is still in the Low Countries of Europe (Belgium, The Netherlands, northern France and northwest Germany). The art of the carillon has spread world wide, however, with instruments on every continent except Antarctica. Nearly 200 exist in North America.
Where known, the details of the recording are revealed by placing your mouse pointer over the file symbol.
The i symbol will link to further details of the latest recordings where details are known.
Sample
File
Inf
Location & Dedication
Home Page

120Kb

Amsterdam, Oude Kerkstoren, Noord-Holland, Netherlands
47 bells.

( none)

i

Antwerpen, O.L. Vrouwekathedraal, Antwerpen, Belgium
49 bells.

( none)


243Kb

Ann Arbor, Charles Baird Carillon, Burton Tower, University of Michigan, USA
55 bells. Bourdon 215 cwt in D#

(Charles Baird Carillon)


1.2mb

Ann Arbor, Ann and Robert H. Lurie Tower, University of Michigan, USA
60 bells. Bourdon G

(College of Engineering)


197Kb
i

Apeldoorn, Oude Raadhuis, Gelderland, Netherlands
52 bells.

( none)


153Kb

Arlington, Arlington National Cemetery, Netherlands Carillon,Virginia, USA
50 bells. Bourdon pitch G

(The Netherlands Carillon)


875Kb

Athens, Marsh Memorial Carillon, Concord College, West Virginia, USA
48 bells. Bourdon (est) 54 cwt in C

(Marsh Memorial Carillon)


176Kb
i

Barneveld, Oude Raadhuis, Gelderland, Netherlands
44 bells.

( none)


175Kb
i

Barneveld, Oude Kerk, Gelderland, Netherlands
51 bells.

( none)

i

Borgerhout, Districtshuistoren, Antwerpen, Belgium
47 bells.

( none)


128Kb
i

Bournville, Bournville Schools, UK
48 bells. Bourdon 64 cwt 18 lbs in Ab

(The Bournville Carillon)

i

Breda, Our Lady Church, Breda, Netherlands
45 bells. Bourdon 54 cwt in B

(Our Lady Church)


19.0mb
i

Brugge, Belfort, West-Vlaanderen, Belgium
47 bells.

( none)


309Kb

Buglose, Le Carillon de la Basilique, Eglise Notre Dame, Landes, France
60 bells.

(Le Carillon de la Basilique)


728Kb

Chicago, The Laura Spelman Rockefeller Carillon, University of Chicago, Illinois, USA
72 bells. Bourdon 18½ tons in C#

(Laura Spelman Rockefeller Carillon)


1.26mb

Cobh, Cathedral Church of St Colman, Cork, Eire
47 bells. Bourdon 67 cwt 2 qrs 22 lbs in A

(St Colman's Carillon)


349Kb
i

Dordrecht, Grote kerk, Zuid-Holland, Netherlands
67 bells.

(Dordrecht City)

i

Douai, The Belfry of Douai, France
62 bells. Bourdon (est) 46 cwt in C
plus sub-bourdon in A

(The Belfry of Douai)


2.51mb

Durham, The Allen & Perkins carillon, Duke University Chapel, North Carolina, USA
50 bells. Bourdon 100cwt in G

(Duke University Chapel)


1.1mb

East Lansing, Beaumont Tower Carillon, Michigan, USA
49 bells.. Bourdon 46 cwt in C

(Beaumont Tower Carillon)


178Kb
i

Ede, Oude kerk, Gelderland, Netherlands
61 bells.

( none)


842Kb
i

Enschede, Universiteit Twente, Campusbeiaard,
Overijssel, Netherlands
49 bells.

(Campus Beiaard Kring)


537Kb

Fort Smith, Reynolds Tower, University of Arkansas, USA
42 bells. Bourdon 12 cwt 2 qrs 18 lbs in F

(University of Arkansas)


1.14mb

Garden Grove, Crystal Cathedral, California, USA
52 bells. Bourdon 55 cwt 3 qrs 26 lbs in C

(Crystal Cathedral)


1.17mb
i

Ghent, Belfort, Oost-Vlaanderen, Belgium
54 bells.

( none)


209Kb
i

Gouda St Janstoren, Zuid-Holland, Netherlands
50 bells.

(Gouda)


Green Bay, First Evangelical Lutheran Church, Wisconsin, USA
47 bells. Bourdon 47 cwt 16 lbs in C

( none )


1.14mb

Greenville, The Burnside Carillon, Furman
University Bell Tower , South Carolina, USA
59 bells. Bourdon 40 cwt 20 lbs in D

(Furman University Bell Tower)


56Kb

Groningen, Martinikerk, Groningen, Netherlands
52 bells.

( none)


177Kb
i

Harderwijk, Grote Kerk, Gelderland, Netherlands
47 bells.

( none)


1.93mb

Hartford, The Plumb Memorial Carillon, Trinity College, Conecticut, USA
49 bells. Bourdon 50 cwt in B

(Trinity College)


3.05mb

Lake Wales, Bok Tower Gardens, Florida, USA
57 bells. Bourdon 207 cwt 2 qrs 6 lbs in D#

(University of Florida)


Lisieux, Basilique Sainte Thérèse, Calvados, France
49 bells.

( none )


London, Regal Cinema Marble Arch, England
32 bell carillon by Gillett and Johnston for the organ.

(© BBC Radio 2)


549Kb

Milwaukee, Marquette University, Wisconsin, USA
48 bells. Bourdon C

(Marquette University)


1.05mb

Nieuwpoort, O.L. Vrouwetoren, West-Vlaanderen, Belgium
67 bells.

(Nieuwpoort, Belgium)


172Kb
i

Nijkerk, Grote kerk, Gelderland, Netherlands
49 bells.

( none)


141Kb

Rochester, University of Rochester, Hopeman Memorial Carillon, New York, USA
50 bells. Bourdon 12 cwt 2 qrs in A#

(University of Rochester)


295Kb

Saint-Amand-les-Eaux, Tour de l'ancienne Abbaye, Nord, France
48 bells.

(St Amand Carillon)


540Kb

San Diego, Fletcher Symphonic Carillon, Hardy Memorial Tower, San Diego State University, USA
50 bells.

(SDSU)

i

Springfield, The Thomas Rees Memorial Carillon, Illinois, USA
66 bells. Bourdon 133 cwt 4 lbs in F#

(Thomas Rees Memorial Carillon)


150Kb

Sydney, University of Sydney War Memorial Carillon, New South Wales, Australia
54 bells. Bourdon 88 cwt 2 qrs 8lbs in G

(University of Sydney Carillon)


175Kb
i

Wageningen, Grote Kerk, Gelderland, Netherlands
50 bells.

( none)


Wellington, National War Memorial Carillon, New Zealand
74 bells. Bourdon 246 cwt 5lbs

(National War Memorial Carillon)


Revised: 07 March 2007 (pat)